Olohuone – a much valued community and support for young people
10.3.2023
The Deaconess Foundation's Olohuone (living room) service provides help, support and activities to young people who have come to Finland as unaccompanied minors without parents to make sure that they are not left on their own. There are always safe adults on hand at the Olohuone to help with things like homework and the Olohuone community enables youngsters to get to know one other.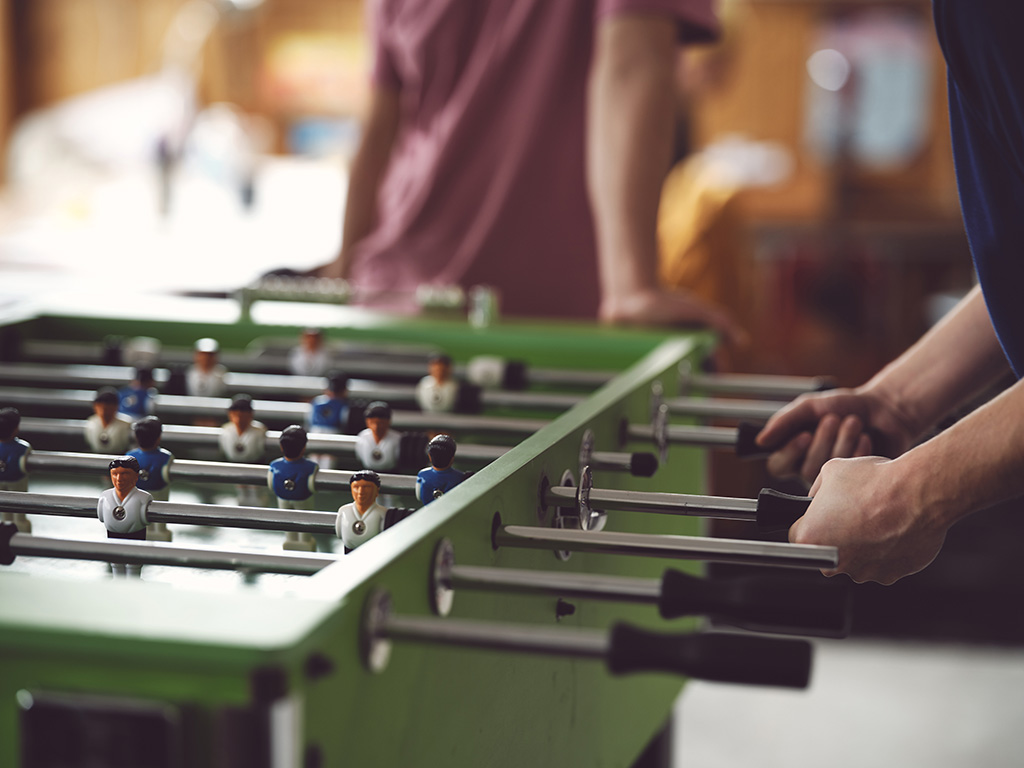 Swedish homework is sometimes a headache for Aziz, who is studying to become a registered nurse. When you've only just managed to learn Finnish, it's not easy to learn another new language using Finnish textbooks.
But Aziz is not worried. He knows he can go to the Olohuone to do his homework with someone who speaks Finnish.
"The Olohuone has become a really important place for me," says Aziz. "I know it's where I can always get help to understand my college work. I've also been helped with doing my Kela (social insurance)  and TE (employment) papers and summer job applications. I always go there first if I need help with something."
A low-threshold meeting place
The Olohuone service was opened in early 2021 to help asylum seekers who have arrived as minors without their parents. The idea was to create a low-threshold meeting place for young people aged 18-25.
Coordinator Kaisa Eichhorn says that the need for a place like the Olohuone was identified by the Deaconess Foundation's mentor family activities, with which she used to work.
"We met a lot of young people in the mentor family programme and we realised that young people over the age of 18 who live on their own are really on their own because there are no support networks for them in Finland. Minors live in group homes, but once they reach adulthood all at once they're supposed get by independently in society.
"The same need had been identified by social counsellors and social workers: young people need support and company in the evenings when schools are closed. You can only see your own social worker by appointment and during office hours – when young people are usually at school."
"When I come to the Olohuone I feel good right away"
Aziz came to Finland in 2015 and first completed his primary education at the Institute of Adult Education in Helsinki. He is now studying for a second year at Helsinki Vocational College to become a registered nurse.
"College is going well, but sometimes doing homework alone feels really hard. When I come to the Olohuone, I feel good right away. It's much nicer to do homework here than at home or at college, where the teachers don't have time to help everyone individually."
Aziz has been coming to the Olohuone since spring 2021. From the outset, it was important for him to have help with his homework and to understand Finnish language learning materials.
"I'd heard from my social worker that there's this place where you can get help. A friend of mine had been to the Olohuone before, and I came along with him to find out more."
Now Aziz goes directly to the Olohuone from college three days a week.
There are always safe adults at the Olohuone
The Olohuone is open from mid-day for four hours every Monday, Wednesday and Thursday. On these days, there are usually two staff members and a bunch of volunteers who have been trained by the Deaconess Foundation. They can all help out with anything that might be needed.
This includes helping with housing and job applications, updating CVs and explaining issues to do with family reunification. Youngsters can also book a personal appointment with the Olohuone staff if they need help with, say, traineeship job interviews, official matters or simply shopping for clothes.
Staff and volunteers are also there so that you can talk to them about anything. After the Taliban came to power in Afghanistan and at the time of the start of the war in Ukraine, the Olohuone held discussion evenings when these issues weighed heavily on many young people's the minds.
"The Olohuone is a place where safe adults are always present, but also peers. We try to be really community-based and arrange community activities. A lot of young people just want something to do. When they don't yet have networks, they don't know where to go in their free time," says Eichhorn.
Sport, culture and social relations
The Olohuone crew has been out together bowling and karting, and trips to movies and the theatre. There have been girls' nights, Fifa matches and a pop-up cafe, while summer trips have taken them to the archipelago outside Helsinki or to Nurmijärvi, and there have been new skills to learn at the swimming and skiing school.
"I also managed to go to skiing school once, and on Fridays I play football in the gym at the Oloomote. Last summer I went on a camping trip to the Vuosaari camping centre, where we cooked, had a sauna and chatted. It was a really nice trip," says Aziz.
The Olohuone has also become socially important for Aziz, as she has got to know other young people who visit the Olohuone through the activities they do together.
"The Olohuone is a really nice place. It's great that it exists and that you can get the help you need there. For that I thank Kaisa and all her colleagues very much."
The Olohuone is part of the YEE project

The Olohuone is part of the Deaconess Foundation's YEE (Together into Adulthood – Moving Forward in Life) project.  The project provides individual support to young people who are eligible for child protection follow-up care and young people who have come to Finland as unaccompanied minors or aged 18-19 and are now in the process of becoming independent.

The National Institute for Health and Welfare has main responsibility for running he project, in part assisted by the Deaconess Foundation. The project is funded by the European Social Fund. From April 2023, the Olohuone will be funded by Funding Centre for Social Welfare and Health Organisations (STEA).

On 10 March 10 this year, the Olohuone service was awarded the Aurora Prize of the Deaconess Foundation. The citation stated that "the Olohuone quickly found its target group, which shows the huge gap in the need for action in society. Many young people have experienced Olohuone as a second home. The Olohuone is accessible in the sense that it is open after office hours, even at weekends. The work there is done with passion and an open heart."
Writer Anu Räsänen
Photos Samuli Skantsi
Translator Mark Waller
Also these might interest you: