Church of the Deaconess Foundation
For 125 years the church of the Deaconess Foundation in Helsinki has expressed the Christian message of the work of the institute. During autumn and spring the church holds open services to which all are welcome.
Welcome to Our Church
The church is open throughout the year, except in July, on weekdays from 09.00 – 15.00. The church's quiet room is set aside for silence, prayer, and discussion.
A place for family occasions
The church with its cosy ambience can be hired for weddings, christenings, and memorial services. The church can accommodate 120 people.
Contact information
Sari Enkkelä
sari.enkkela@hdl.fi
+358 40 191 0900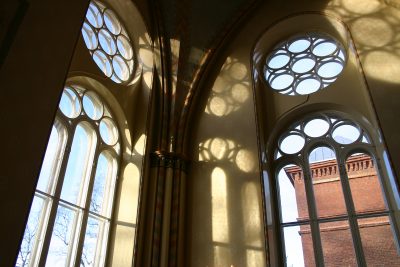 The first church on the north side of Pitkäsilta
The church was completed in 1897, at the time as the hospital, sisters' home, and commercial building. The whole area was inaugurated on 12 May 1898. In September the same year the first initiation of deaconesses took place at the church. Before this, the Deaconess Institute had operated for 20 years in the Katajanokka district of Helsinki. It was the first church to be built on the north side of Pitkäsilta, the bridge dividing south from north Helsinki.
Gothic Revival example
The church was designed by the architect Baron Karl August Wrede. It is built in the Gothic Revival style. The church was renovated in the 1950s and 1970s, and it was fully restored in 2004 as closely as possible to its original form under the direction of the architect Ulla Rahola.
Church's donated artefacts
The crucifix on the altar wall is 19th century Italian silver. The altar is covered with an altar cloth whose colours range according to the times of the church year and the various holidays. The white altar cloth is used on major church holidays, and is the work of the textile designer Dora Jung. That and the cross-stitch carpet surrounding the altar table were gifts to the institute's director Hanna Masalin on her 60th birthday in 1932. The works of stained glass were gifts to the church: "Suffer little children to come unto me", 1923 (by Greta Hult) and the Good Samaritan, 1965 (by Fritz Hilbert). The organ was donated by deaconesses, the sisters, in 1902. This is the oldest remaining fixed pneumatic organ in the greater Helsinki area.